Veneers & Smile Makeovers
Anyone can benefit from veneers or a smile restoration if you don't like the look of your teeth or overall smile. At Smith and van Lierop we mainly see people who want to correct an underlying issue. For example, patients who don't want to undergo braces [again!] yet still have crooked teeth, others who don't like the colour of their teeth and want to whiten them permanently, and some patients who have chipped front teeth or have one grey front tooth from trauma, or who've simply had thicker porcelain veneers done in the past and want a more natural finish.
The process of building naturally healthy smiles
Building a health smile is a complex treatment that needs meticulous planning. Following these 5 steps, our team of special qualified dentists will build a customised treatment plan that will help you achieve the result you want. Using advanced dentistry procedures to restore broken smiles, the way nature intended.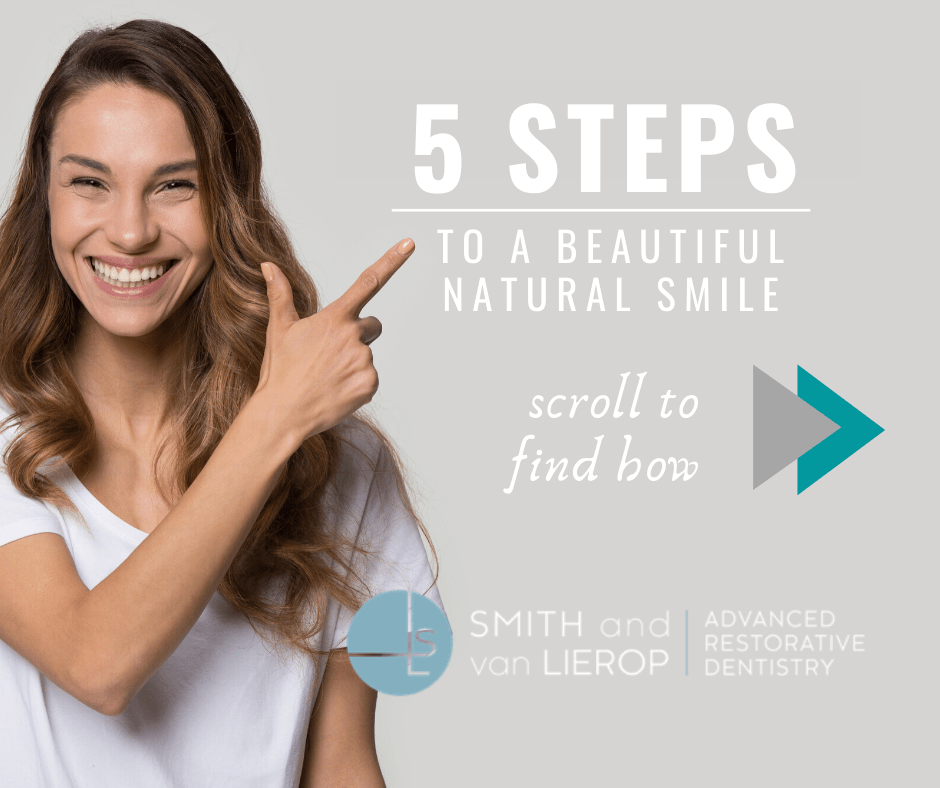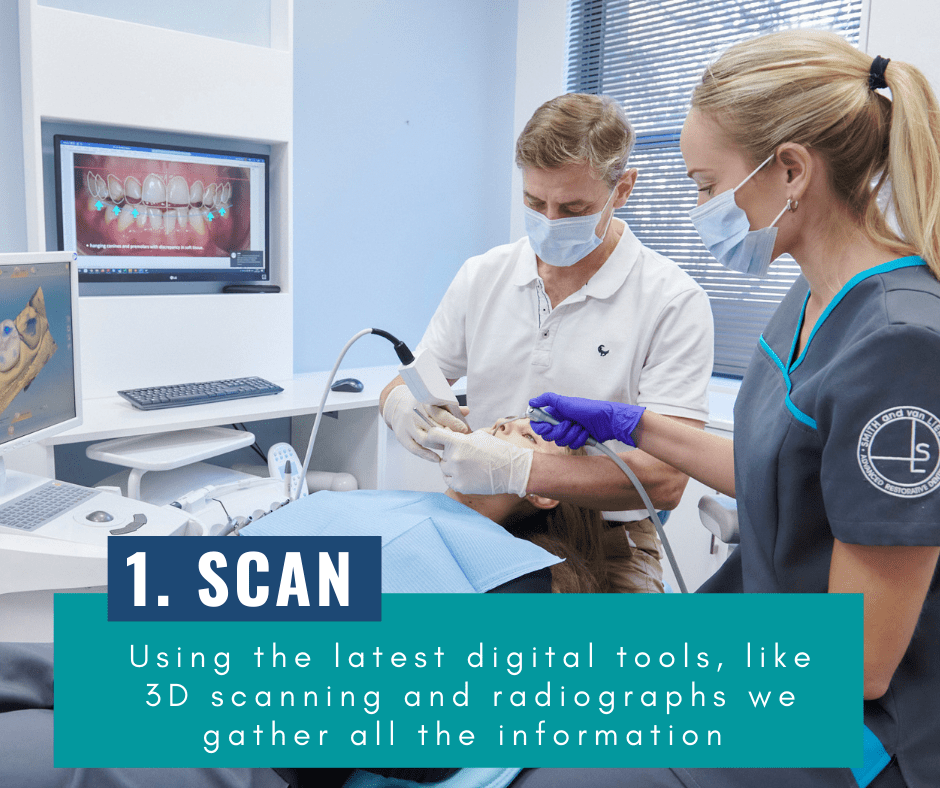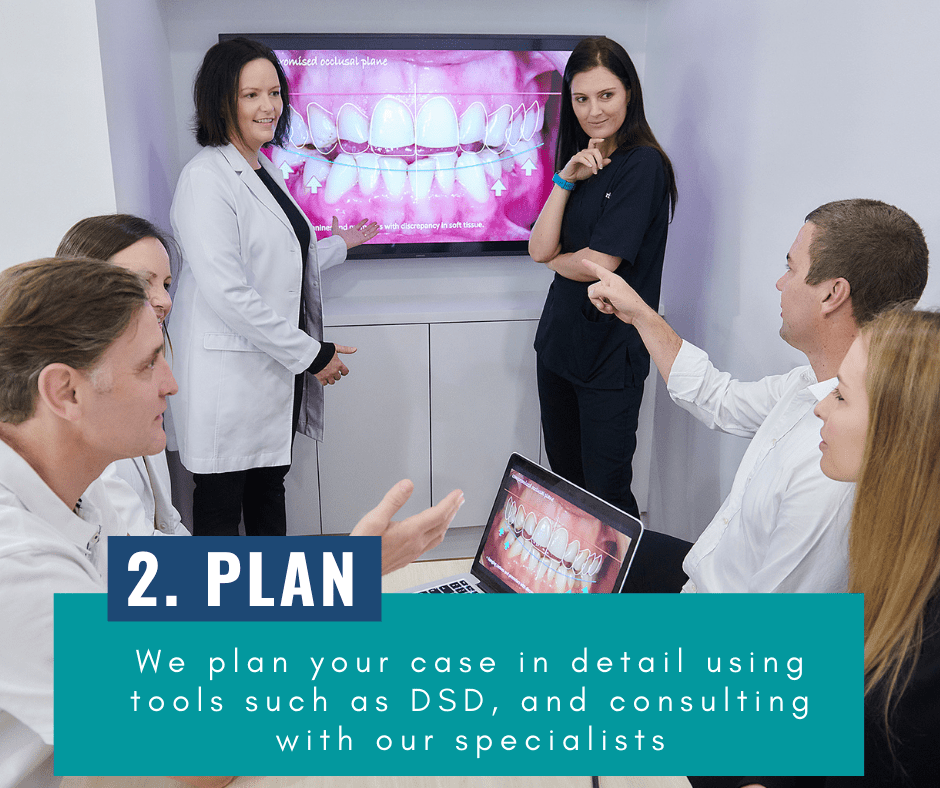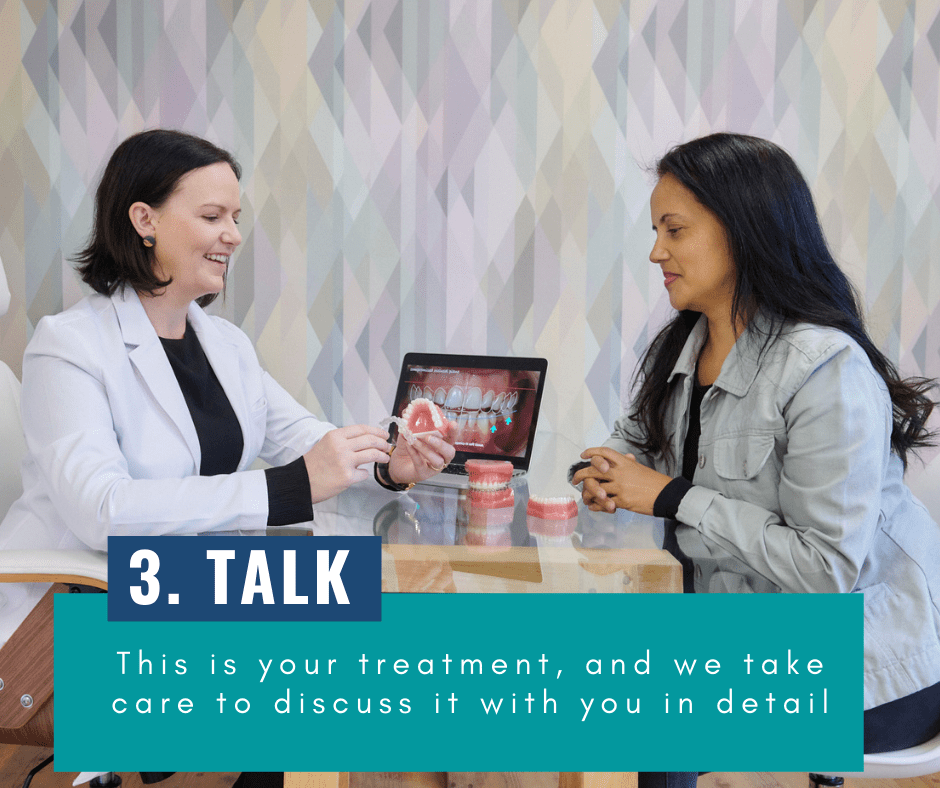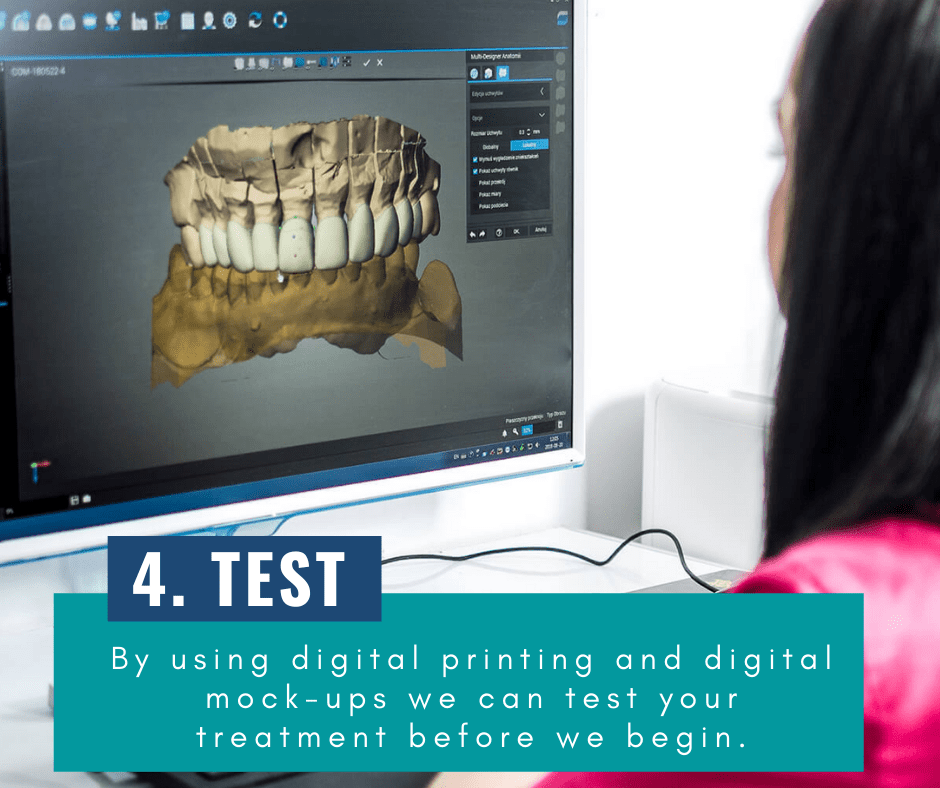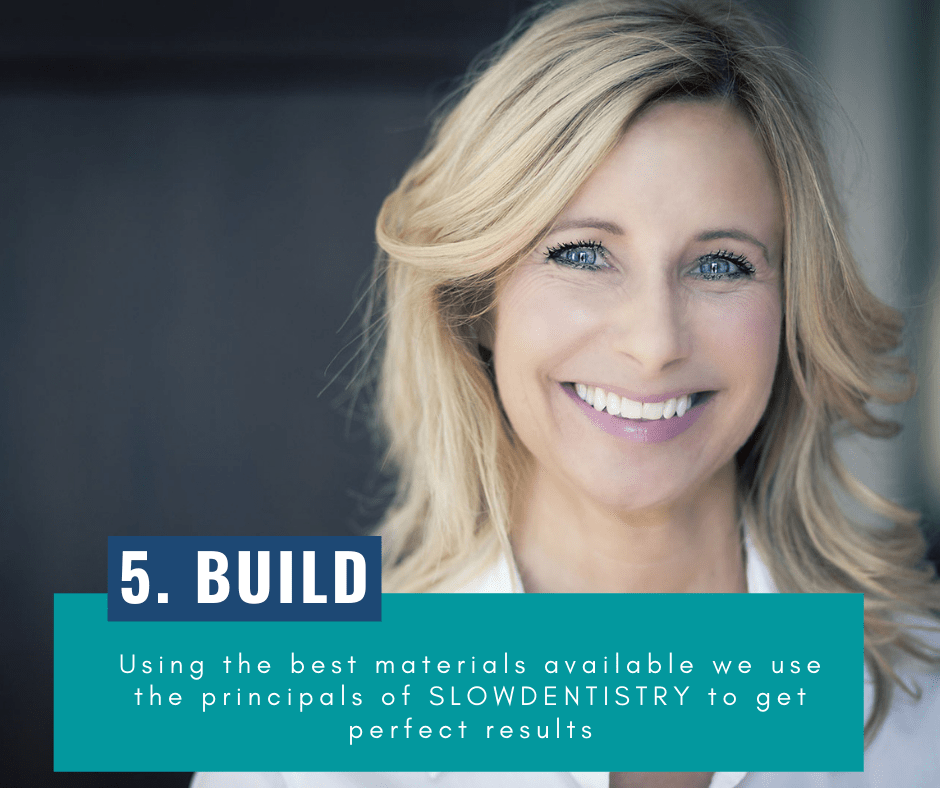 This is your smile
We believe that every person is unique and that every smile is unique. That is why we do everything customised. First we discuss with the patient what is possible based off of their wants. We also take into account their personality, how they talk, the expressions they make, how high their actual smile goes verses a social smile, etc., and then we make sure they get the smile they want, while making sure their teeth also work functionally so they can still eat. Then, there are two ways to trial a smile: One is a direct sculpting of a temporary composite that is created and placed on top of their teeth to show them what we can achieve, and the second is to use technology to create a digital rendering that's comprised of multiple pictures taken of the patient. Using 3D, our team can show the patient their proposed new smile and we go from there.
Perfect Imperfections
We don't believe in making teeth look perfect; instead, we want to maintain the character of your smile, while enhancing it. We also don't want our dental work to be noticeable; we want people to look at our patients and think I feel like they did something, but I can't tell what it is. It is about understanding our patient so that the veneers look like the teeth they were actually born with. Because that's really aesthetic. When you give people back something that looks foreign, you're not giving the patient back what they're familiar with.
Making sure it is right
To make sure you're going to like what you just discussed with your dentist, a mould of your teeth is taken and temporary veneers are then made out of a liquid composite. Think of it like a blueprint for your teeth. We specifically sculpts what your new smile will look like, so that he can take pictures of you and decide whether or not you'd like to move forward. They won't be as shiny as the porcelain veneer and are a little bulkier, but don't worry, they're only... temporary. These are important for you to understand what the finals could possibly look like.
Less is More
Ninety-nine percent of the time, we don't need to shave away more than .5 millimetres to gain all the space we need to create the perfect result. What makes our teeth different than most is that we design the final smile before we even start, so it allows us to be super minimal when it comes to what we have to do to prepare the teeth.
A conservative alternative to Ceramic veneers is composite veneers. These are made by adding composite (filing materials) directly onto the teeth in one appointment. In many cases, there is no preparation needed at all and the process is completely additive. Unfortunately, Composite veneers are weaker than ceramic and may stain more over time.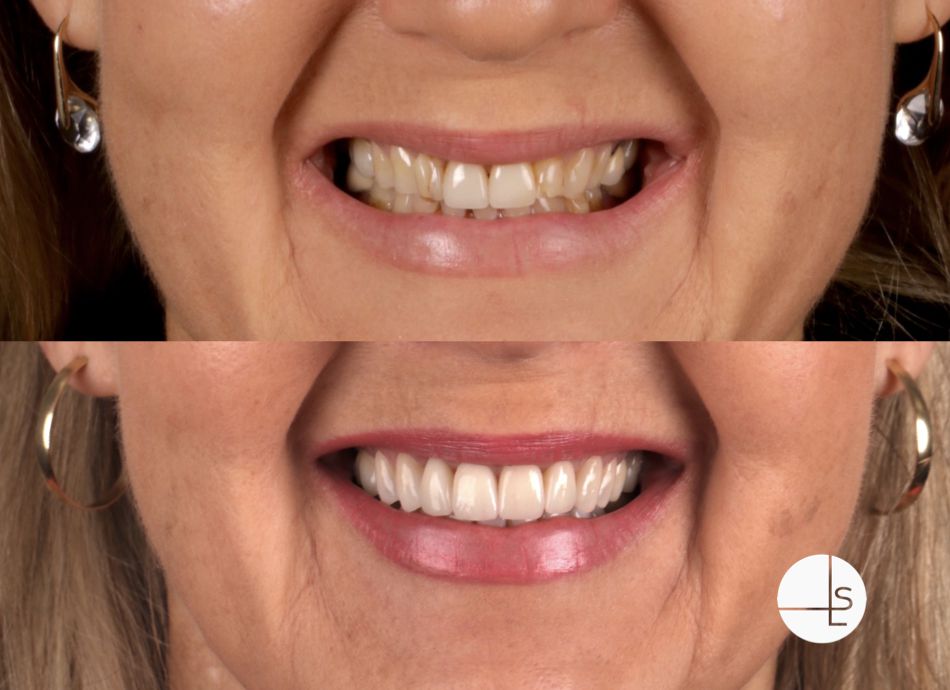 Ceramic Veneers
A Porcelain veneer is a thin piece of porcelain used to re-create the natural look of teeth, while also providing strength and resilience similar to natural tooth enamel. They are custom made to the contour of your teeth and are bonded to the tooth's original enamel. The material we use to fabricate porcelain veneers is called E-max. The strongest and most durable material on the market. One of the benefits of porcelain veneers are that they don't discolour with time. They maintain the bright white colour for much longer than normal teeth or composite veneers.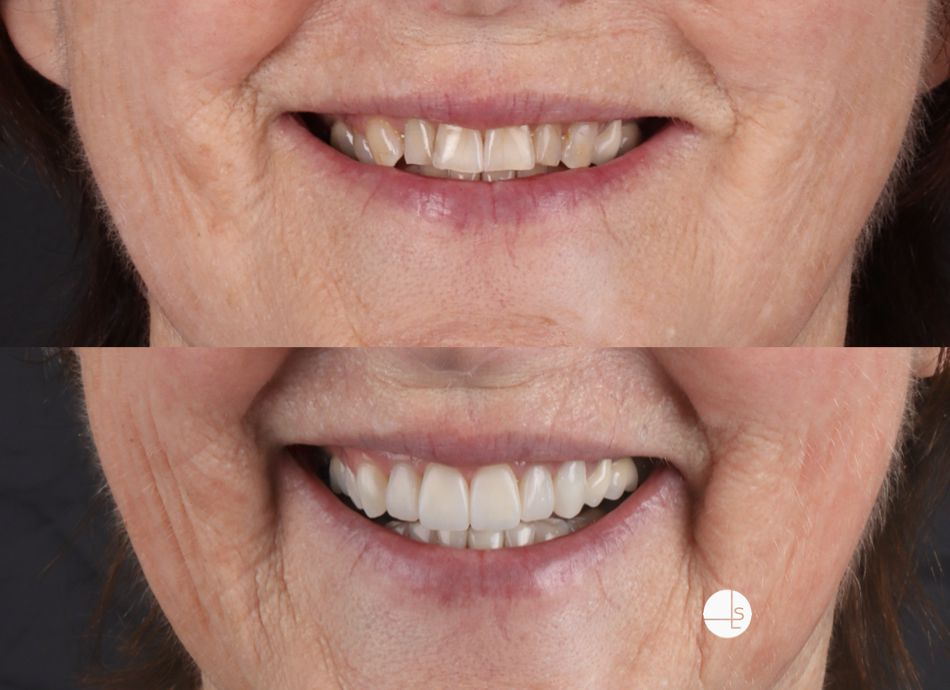 Composite Veneers
An alternative to ceramic veneers, Composite veneers are placed in one appointment and is minimally invasive. This treatment is generally done in people with small imperfections, and can be very quick and effective. It is important to remember that composite will stain with coffee, tea and smoking. It also has a shorter lifespan than porcelain veneers, and will last around 5 to 7 years. One of the main differences between composite and porcelain veneers is that composite is generally much cheaper than porcelain veneers.