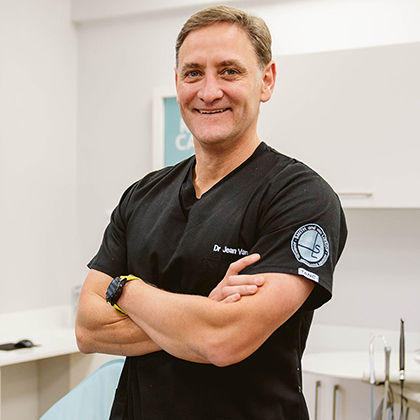 Dr Jean Van Lierop
Clinical Director/Owner
"Dr van Lierop is passionate about the use of modern direct adhesive techniques and materials in a minimally invasive approach to help restore beauty, health and function."
Biography
After graduating from the University of Stellenbosch in 1999, Jean worked in private practice in the Netherlands and United Kingdom. Returning to South Africa, he achieved his Postgraduate Diploma in Aesthetic dentistry at the University of Western Cape (Cum Laude) and a Masters Degree in Restorative Dentistry in 2019.
After years of postgraduate training and continuous lecturing and education, he has developed a deep passion and understanding of reconstructive dentistry. He believes that creating durable improvements of the entire (oral) health structure is only possible if we can achieve predictability, durability and beauty. This belief has led him to complete an intensive course in Advanced Reconstructive Dentistry with the Academy of Reconstructive Dentistry in the Netherlands
Jean played an integral role in the founding of the South African Academy of Aesthetic Dentistry (SAAAD) and currently serves on the executive board as Immediate Past President. He is also a member and fellow of the International Team for Implantology, Chair of the Scientific committee of the South African Dental Association and co-founder of The Bridge Program that aims to support the development of newly qualified dentists. Through his ongoing involvement in training and education courses Jean helps support the South African dental community and its development.
Understanding the impact our smile has on your self-esteem and the way society perceives us, Jean has been actively involved in creating awareness and raising funds for Operation Smile, supporting them to operate on children born with cleft lip and palate deformities. Some of these projects include, summiting Kilimanjaro in the Uhuru Project, instigating The Mad Run, a 280km trail run across Table Mountain and the 35 Day Challenge, summiting table mountain each day for 35 days in aid of Miles for Smiles and Operation Smile. His recent project, @45for45Smiles inspires the general public to commit to good exercise habits and at the same time helping a child receive life changing surgery.
I fundamentally believe in the following concepts:
Slow Dentistry is a concept of care which aims to improve all aspects of the patient-practitioner relationship, including safety, well-being, comfort and understanding. We have reached a point where the evolution of technology and innovation, the pace at which we move and time constraints have made it challenging to implement the principles that, years ago, made many dental treatments successful. In recent times, Dentists have a lot more responsibilities than they did years ago and all of these responsibilities take away from the time they have to be thorough and provide adequate time for diagnosis or treatments. Excellence can only be attained when professionals have enough time to do what they need to. Focus on care is a more thorough approach, with greater efficiency, higher productivity, reduced waste, and an emphasis on quality. It is about making more out of less and doing things the way they should be done while enjoying an emotional bond with patient and staff.
This focus results in enhanced patient safety, with the reduction of risks, errors, and complications. It also leads to increased satisfaction and a better overall experience for patients in all areas of the practice.
Long-lasting, predictable, successful results take time to create, and all the success of dental treatment happens in the beginning - when we take the time to plan everything in detail - minimizing surprises and achieving predictability.
Jean believes in using all of the resources available to him to provide a safe, comfortable environment for his patients with high quality, successful treatments.
He believes in teamwork and understands that you can't do everything yourself. His approach to successful dental treatment relies on his own skills and the skills of the people around him. Every member of the treatment team has different strengths and areas of expertise so Jean makes the most out of every collaboration in order to give his patients the best possible outcomes. He is also passionate about sharing his vast knowledge with other dental professionals and enjoys the collaborative work environment.
Jean believes that your dental team should question, plan and create as a team.
Minimally Invasive Adhesive Dentistry is an advanced branch of dentistry which focuses on saving as much of the natural tooth as possible during treatment.
The concept is to do as little as possible but to do enough to get a long-lasting result that restores the health and aesthetic of the smile. Once the natural tooth structure has been removed, it is gone forever. Minimally Invasive Cosmetic Dentistry conserves healthy tooth structure by performing the least amount of dentistry necessary to ensure a successful outcome and never removing more tooth structure than required to restore teeth to their optimal condition.
To achieve this, Jean makes use of durable, high-quality materials that conserve the maximum tooth structure and eliminate the need for future repairs. Jean is a firm believer in the strength of modern adhesion, which forms the basis of minimally invasive dentistry.
He has adopted the "do no harm" strategy when deciding the selection of treatment procedures, equipment and dental materials and will always opt for the options which preserve the maximum amount of healthy oral tissue.
Jean also encourages his patients to keep in touch, so that he can facilitate regular maintenance, timely repair when necessary and strict evaluation of the work performed.
Education/ Teaching
Dr Jean van Lierop (BChD, MSc, PDD)
Dr van Lierop is passionate about the use of modern direct adhesive techniques and materials in a minimally invasive approach to help restore beauty, health and function.
Read more...
This passion has seen him complete his MSc in Restorative Dentistry and a PDD in Aesthetic Dentistry at the University of Western Cape. Dr van Lierop is a founding member and current president of The South African Academy of Aesthetic Dentistry (SAAAD) and co-founder of "The Bridge Program" - aimed at equipping newly qualified dentists with the necessary skills for private practice. With a strong belief in the power of shared knowledge, Dr van Lierop has presented numerous cases and concepts to local and international colleagues throughout Africa, Europe and the Middle East.
Dr Jean van Lierop has a passion for dentistry, and he is fortunate enough to be able to live his passion every day.
Over the years, he has completed in-depth training with a few highlights
Qualifications
BchD (1999)
PDD (diploma) – aesthetic dentistry 2014
Msc (masters) – Restorative dentistry 2019
Education and lecturing in Implantology
Completed modules in implantology at the Implant and aesthetic academy https://www.facebook.com/implantacademy/
Attended implant specific courses in Switzerland
Is an International Team of Implantology (ITI) member
Has presented in implantology in relation to restoration and planning of implant cases
Education and lecturing in Restorative Dentistry
Dr van Lierop has a passion for minimally invasive adhesive dentistry. This has awarded him invitations to attend small group hands-on training in:
USA
Germany
Portugal
Italy – StyleItaliano
Dr van Lierop has completed a two-year Diploma in Aesthetic dentistry in 2014 (cum Laude) and recently completed a research Masters in Restorative Dentistry which focused on some of the principals of minimal intervention dental treatment. During this period, he was a visiting lecturer in the University of the Western Cape Postgraduate Restorative Department.
Dr van Lierop has been lecturing on the topic of restorative and adhesive dentistr since 2010 on numerous national and international conferences in:
Poland
Turkey
Dubai
Saudi Arabia
Kenia
Namibia
He is currently a senior lecturer at The Implant and Aestheic Academy.
In addition to podium presentations, he has run full-day workshops on Adhesive dentistry throughout the country to teach fellow dentists for the past 8 years.
Dr van Lierop believes in the power of shared knowledge. That everyone has something unique to contribute, and everyone can achieve greatness. It is only through perseverance and hard work that we can achieve this together. By teaching and sharing, he hopes to assist fellow dentists to achiev their greatness.
As a result of his passion for dentistry and his belief in the abilities of all dentist to succeed and love the profession as he does, Dr van Lierop has worked with his colleague, Dr Corne Smith, to establish The Bridge Program with the aim to give young dentists the tools to bridge the gap betwee University & community service towards their new careers in private practice. Over the 8 modules, the young dentist will be introduced to the world of dental business; given tips on how to interact with staff and colleagues while learning how to build a structured treatment plan. The extensive clinical modules will incorporate the latest tools needed to perform clinical procedures with confidence
Founding member and the Immediate Past President of The South African Academy of Aesthetic Dentistry (SAAAD)
Member of the International Federation of Esthetic Dentistry.
Member and Fellow of the International Team for Implantology (ITI), and currently serves on the Board of the Southern African Section.
Member of the South African Dental Association.
---
---
Memberships and Associations