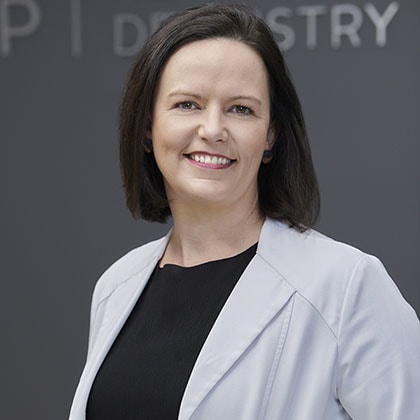 Dr Corne Smith
Clinical Director/Owner
Why did you become a dentist?
"Dentistry is one of the occupations that either suits you perfectly, or not at all. When people ask me why I became a dentist, how I can work in a mouth, on teeth? I always laugh, because it's not weird for me at all. I really love this. I love giving people confidence to smile, I love helping someone in pain, and I absolutely love the way art and science meets in creating beautiful and functional teeth. I know it might be weird for some, but for me it's a perfect fit. This is not an occupation for me, it is my passion." How did the practice start?
In December of 2011 Corné founded Corne Smith Dentistry in Newlands Cape Town. The dream was always to be a practice owner in the mother city, and Corne Smith Dentistry successfully grew from a very small practice to one of the largest practices in the Southern Suburbs. Great lasting dental treatment, support from the community, and a passion for always learning is what Corne believes made the practice so successful in such a short amount of time.
The practice has since then grown to a large multi-disciplinary practice, and in 2019 officially became - Smith and van Lierop – ADVANCED RESTORATIVE DENTISTRY, with Dr Jean van Lierop joining the practice as a partner. Where and what did Dr Corne Smith study?
Dr Corne qualified in 2005 at the University of Pretoria, and has since done a post graduate diploma in Aesthetic Dentistry and Orthodontics. She has always been on the forefront of learning new techniques, and has completed several national and international accredited courses. Her special interest lies in treating the patient with an integrated approach, looking at all the factors affecting the function, health and beauty of our teeth. How do you approach dental treatment?
"Experience has taught me that less is always more in dentistry. The best dentist helps the patient with the least amount of invasive treatment. We have to understand that we can never go back once a tooth has been destroyed by a dental drill. Enamel is one of the most precious things we have, and preserving the enamel of a tooth when doing a crown or veneer, can make it last 10 times longer. We have a responsibility as dentists to inform our patients of the long-term effects of invasive treatment. There is no quick fix here. It is a real artform to create a beautiful smile with as much of the patient's own tooth structure as possible. It's easy to destroy teeth, but it takes time and expertise to preserve and respect what nature has given us. Nature is always beautiful, and I believe that form always follows function."
Am I a cosmetic dentist?
"Well every filling, veneer, every tooth build-up, every smile make-over we do is beautiful, its sculpted and crafted to look white, healthy and natural, so it is Cosmetic dentistry, or Aesthetic Dentistry. But its more than that. If a filling in the back of your mouth functions well, and also looks beautiful, does it still count as cosmetic if no one sees it?
The process we follow in diagnosing is more than just looking at cosmetics. We want your beautiful veneers and crowns to last. We want it to work in your specific mouth, with your smile, your face, with the way you chew and talk. Then it becomes much more than just cosmetic dentistry, it is treating to natures original intent. And that is always beautiful."
What are your favourite treatments to perform?
I really enjoy treating patients where we need more than just one tooth restored, smile-enhancing treatments and full mouth treatments. I love using technology to give these patients the best possible results. We see patients with worn away front teeth due to grinding, or broken back teeth due to large old fillings. In these cases we have to diagnose and plan properly before doing any treatment. Often times these people have a history of a filling or crown being redone several times by different dentists without success, and need a solution that will last. Digital x-rays, 3D intra-oral scanning, 3D conebeam scanning, digital smile design, photography and computerised dentistry all form part of the process. We also work in a team when we do these large cases, and after proper diagnosis and planning, we can do treatments that involve implants, gum treatments, crowns, veneers and sometimes even orthodontics treatment.
How do you use the integrated team approach in large cases?
We are very fortunate to have a team of specialists that we work with in our practice. It is very clear to us that our patients need to have a proper diagnosis and planning before anything can be done, and that the success of the treatment truly relies heavily on the planning phase. In our practice we work with Periodontists, Orthodontists and Restorative Dentists. We have a team meeting every week to discuss our patients, and have treatment discussions with our patients before doing any treatment. In this way we work through all the treatment options, and also time frames and costs before we start. Being part of this team has made all the difference in giving our patients options in treatment plans, and having all the experts under one roof.
Giving back to dentistry - the Bridge Program
In 2018 Dr Smith co-founded the Bridge Program. This is a program where we teach young dentists the foundations of private practice dentistry after graduating. There is a large need in the dental community for mentorship and guidance, and with the Bridge Program we have successfully had 3 groups of dentists from all over Africa go through the program. We believe in giving back to dentistry, and teaching our new generation of dentists.
Corne also lectures on several topics in dentistry in South Africa, and keeps up with the latest technology and techniques to be able to teach.
Organisations, affiliates and accreditations.
Board member of The South African Academy of Aesthetic Dentistry SAAAD
Member of The South African Dental Association SADA
Member of the Health Professions Council of South Africa HPCSA
Accredited Invisalign Provider
Accredited Damon Braces Provider
Practical TMJ and Orthodontic Therapy
Smile TRU Certification
TMD and sleep dentistry
Fixed Orthodontic Therapy
Maxillo facial Orthopedics
---
Memberships and Associations